Bella
Sporting a heritage town and country style, this polybraid is complemented with a stylish belt trim. Suits both men and women.
100% Poly Braid
Washable
UPF50 +
Size: 58cm (ALL)
Size: 61cm (Ivory/Ivory)
Internal drawstring adjusts fit



Cotton A closely woven cotton fabric that can be packed & crushed, yet always retains its shape. Microfibre A lightweight, 100% polyester fabric. Water-repellent and quick drying. Polyester Machine Knitted The look of straw in a breathable, crushable polyester knit or braid. Polyester Ribbon Braided A 100% polyester ribbon, sewn together in multiple layers. Packable, crushable & lightweight. Raffia A natural palm leaf fibre grown on the Island of Madagascar. Handwoven. Spot wash only. Towelling Cotton (TC) Lining The TC lining fabric is 65% polyester, 35% cotton. Natural Fibre A 50% polyester and 50% paper braid sewn together in multiple layers. Spot wash only. Care for all fabrics To care for your Emthunzini Hat hand wash in cold water using a mild liquid hand soap or spot wash where indicated. Air dry. Do not use bleach or Woolite®. Do not dry clean. Disclaimer: Whist we make every effort to truthfully display the exact colours of hats in our range, colours may vary due to the media of advertising in the website and/or catalogue and in printing the catalogue. We will not accept any liability in respect of incorrect colour choices being made. If you are in any doubt as to the the exact colours please contact us.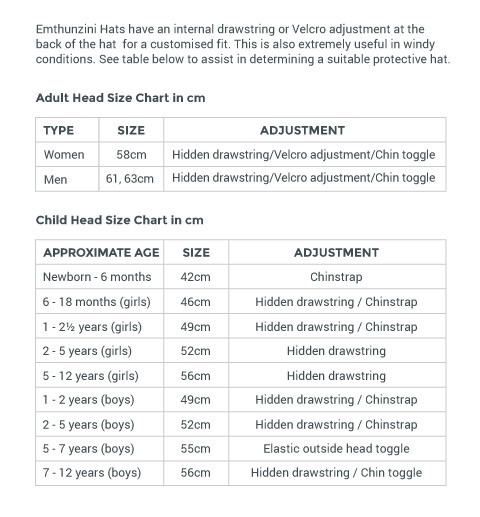 Related products